Foreign students get to know Siberia and the UT
19.07.2016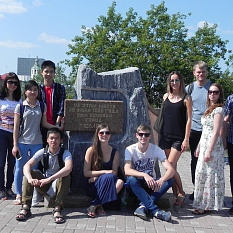 For the seventh time already, the Regional Institute for International Cooperation UT is holding its regular Summer School of International Communication "Explore Siberia!". Among the participants there are students from Vietnam, the Czech Republic and Germany. The school is not only concerned with the study of the Russian language – it's also intended to familiarize the students with the culture and the specifics of our region.
Several excursions have been made so far, including those around Tyumen, Tobolsk, to the historic town in Abalak near Tobolsk, the Archaeological Museum on Lake Andreewskoye and the Uspenka village museum. Here the students could get personally acquainted with the multifaceted history and culture of Siberia, whereas the visit to the center of aesthetic education "In the Burkov's house" gave them a chance to discover those in a more practical way. Here they interacted with the children, sang and danced to the Russian folk tunes, tried on costumes and even made Siberian charm dolls with their own hands. Also, the foreigners visited the houses of typical Russian families.
There a number of events yet to take place in the coming days, such as the tour of the city industry, a project called "UT Science Centers", which will feature a visit to the Prototyping Centre (FabLab) and will introduce the students to a range of other advanced facilities of the university.
The Summer School of International Communication will last until July 31.