News
08.09.2016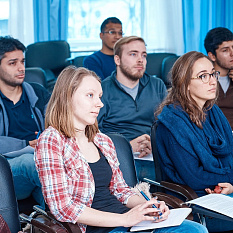 The first English-taught supplementary educational program for foreign students "STEP in Russian Energy" has been successfully implemented.
In the spring semester, students from Mexico, Venezuela, Chile, Argentina, Brazil, Spain, Germany , Slovakia, Serbia, Egypt, Malaysia and Kazakhstan came to Tyumen to study the Russian language, the history of development of the northern territories, economy and geography of the Tyumen region, the basics of energy and natural resources legislation, and more.
The STEP program involved the participation of mentors, among which there were specialists with the Institute of State and Law, Finance and Economics Institute, the Institute of History and Political Science, Institute of Earth Sciences, UT, and a number of invited experts.
Some of the lectures and seminars under the program were held by faculty of the Institute of Earth Sciences Irina Akhmedova, Natalia Zherebyateva, Vitaly Horoshavin and Lilia Sulkarnaeva. Together, they have implemented a training course "Natural Resources of the Russian Northern Regions", which featured lectures, seminars, practical exercises and case studies.
In addition to that, a field trip to the deepest pit of the Tyumen region "Kyshtyrla" was organized, during which the foreign guests got acquainted with the extraction technology of the most common minerals, having learned the history of the various geological epochs of our region. The trip was organized with the participation of the staff of the Department of Subsoil Use and Ecology of the Tyumen Region Government.
The program ended with an exam, which was successfully passed by all the foreign students.