The "Route to the North" has been "paved!"
12.08.2015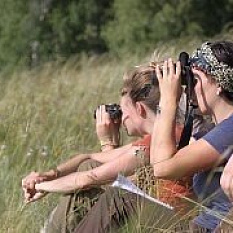 Recent International Summer School "Route to the North" made it possible for 30 German and Russian students to study geography, culture and the history of the development of the Tyumen Region.
The unique concept of the school enabled students to upgrade professional competence in ecology, geography, foreign languages, history, intercultural communication and regional studies. Being keen on sustainable natural resource management the participants got to know Western Siberia, visited the most exceptional places fr om the south to the most northern parts of the Tyumen Region. Students and professors of the University of Münster, Tyumen State University and its branches in Tobolsk and Ishim, Yugorsk State University were united in the framework of the "The Friendship Route" that has become the part of the Summer School.

The Route to the North has gone through the cities of Tyumen, Ishim, Tobolsk, and Khanty-Mansiisk. During two weeks the Summer School participants were studying peculiarities of the Siberian landscape and climate, getting acquainted with the Northern culture and architecture. Studies were focused on History and the Geography of Russian North, Natural Resources and Economics of the Northern Territories, and the Conditions of Protecting the Northern Ecosystems.
The Summer School involved business meetings, excursions, round table discussions at enterprises and institutions of the Tyumen Region. Thus, the Tyumen Chamber of Commerce held an open day for foreign guests wh ere the peculiarities of the Tyumen Region's economic development were presented.

Students spent a lot of time in the field, explored biodiversity at Lake Kuchak, a TSU Biostation, visited Priobskiy oil-field and worked at the UNESCO Department of Yugorsk State University at Shapsha Settlement.
The Cultural programme of the Summer School comprised of excursions in Tyumen, sightseeing places in Tobolsk (Tobolsk Kremlin, Znamenskiy Abalak Monastery), Khanty-Mansiisk (Archeological Park, Natural Science Museum), a day at the Ob river (traditional meals, ceremonies, games).

"I couldn't imagine that in Siberia there are such beautiful cities as Tyumen, Tobolsk, Khanty-Mansiisk. They are just like an oasis among the vast Siberian expanse," said Christian Härting, student of the University of Münster
"I have found new friends, who I have a lot in common with, and I will go on learning German," said Euvgenia Pakhtusova, a student of the Ishim branch of TSU.
"I adore Russian pelmeni and I will definitely come here again," said Alice Craemer, student of the University of Münster
International Summer School "Route to the North" comprised of several cities in the Northern and Southern parts of the Tyumen Region. Its moderators, Norbert Hölzel, Johannes Kamp, professors of the University of Münster, Elena Gladun, advisor to the president of TSU, and Elena Yuzhakova, director of the Department of International Relations of TSU, make new plans hoping that the "Route to the North" will continue.