International summer school requires volunteers
27.06.2017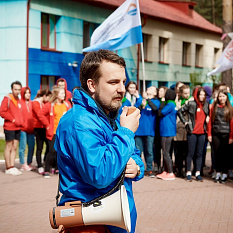 The University of Tyumen, in partnership with
the University of Debrecen
(Hungary) and
the Peoples' Friendship University of Russia
organizes
the international Summer School "Business Russian"
.
From July 15 to August 14 for a month
international students from Hungary, France and the Netherlands
will study business Russian in the Institute of Philology and Journalism. The Summer School provides 2 tracks: an intensive language program for beginners and an advanced course of business Russian for masters of foreign universities. International students will get acquainted with the basics of business communication and formatting of the official documents in Russian. The program includes excursions and practical tasks in the Tyumen Region Duma and the Tyumen Region archive, visiting museums and, of course, fascinating tours to Tobolsk and Yalutorovsk.
The organizers invite Bachelor degree students (3-4 year) and Masters to participate in the realisation of the Summer School and become
volunteers
. Volunteering will include meeting international students at the airport, escorting during the excursions and showing Tyumen attractions.
Requirements for volunteer candidates:
level of English: Intermediate and above;
intercultural communication skills;
motivation.
Volunteers will gain experience in organizing events and communicating with international students. Apart from this, they will receive the certificate of participation in the organization of the Summer School and a record in the volunteer book (if any).
In order to apply you need to fill in
the online form
and attach a short motivational letter in Russian.
Volunteer-Enrollment deadline: July 2, 2017.
Additional information is available in the Department of International Relations: 23 Lenina Street, Office 201. Tel.: (3452) 45-53-69, e-mail:
interleto@utmn.ru
.