Excursion to Tyumen Region Duma
27.07.2017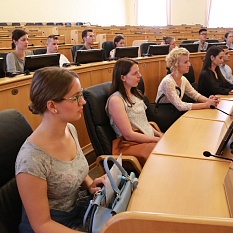 The educational programme for international students
"Business Russian" Summer School
is not only studying the language of the business documents in Russian. Another important aspect of the programme is the involvement into the business communication, familiarity with the specific features of the social and political life of our country. That is why the first tourist attraction visited by the students was the
Tyumen Regional Duma
, the largest body of legislative power in the region.
As a part of the excursion Olga Shvetsova, the deputy chairperson of the Committee on State-Building and Local Self-Government, met the international students of the Summer School. The current deputy of the Tyumen Region Duma, Olga Vladimirovna, revealed the peculiarities of the deputy activities, the concept of youth policy in the Tyumen Region, and the prospects for the region development. The meeting was busy and fruitful, and the listeners learned a lot of new information about the characteristics of public and political life in the Tyumen Region.
After that, students had an excursion through the numerous halls of the building led by
Svetlana Pavlova, the information policy adviser of the Tyumen Regional Duma.
The most significant moment of the excursion was visiting the Large Conference Hall where the participants had an opportunity to learn the history of regional herald symbols, the coat of arms and the flag of the Tyumen Region. In addition, they got acquainted with some of the parliamentary process features and the secrets of the building. Moreover, everyone could take a selfie on the podium and in the speaker's seat.
There was also great interest in the photographic exhibition located in the Duma corridors, especially to the part devoted to Russian president Vladimir Putin's visit to Tyumen.
The excursion finished with applause and numerous selfies in front of the building, as well as near the monument of Lenin. International students gained a lot of new experience and knowledge. It was their first experience of such an excursion in Russia.