"Business Russian" summer school students visited Tobolsk
28.07.2017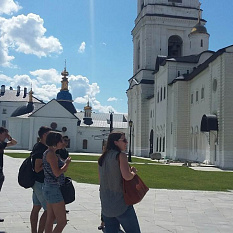 The first study week of
the Summer School "Business Russian"
finished with a significant and memorable event, a visit to Tobolsk, the ancient capital of Siberia. All of the Summer School participants visited the town for the first time.
International students enthusiastically walked through the historic town centre, followed the guided tour through the territory of the Tobolsk Kremlin, and looked around the exhibition of the governor's house. They also took part in the workshop of clay crafting and pottering in a potter's wheel. All of the participants could take their handmade clay souvenirs back home.
The tour finished with an excursion to the prison castle, where international students were able to learn many interesting details of the old Siberian prison functioning and prisoners way of living.
The tour left the most pleasant impressions and evoked a lot of feelings and emotions among the students from Hungary, France and Vietnam, who discovered the town on the Tobol river for the first time. Besides, Summer School students did not stop studying even during the entertainment tour: they became familiar with the language particularities, features of the tour guide speech and practiced free communication in Russian