Foreign students explore UTMN document management
04.08.2017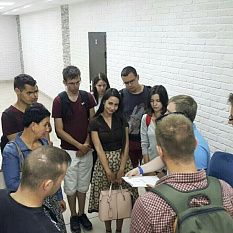 On 28 July 2017, students of the Summer School "Business Russian" attended an organized excursion to get acquainted with the specifics features of the document management and storage at the University of Tyumen.
After a brief lecture on the basics of the document management at UTMN, given by Ekaterina Satrudinova, head of the Department of Corporate Information Systems and Documentation Support of the University, students participated in an excursion through the department and then to the archives of the University of Tyumen with the guidance of Dmitry Promotorov.
During the exploration, foreign students learnt how to create, process and store documents at the University of Tyumen. They also enriched their vocabulary with new expressions and terms peculiar for formal business style.
The tour culminated with a common photo in the White Hall of the UTMN Administrative Building.