News
14.08.2017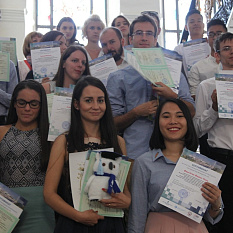 The official closing ceremony of the Summer School "Business Russian" took place at the University of Tyumen. The first International Summer School was organized in partnership with RUDN. Students from France, Hungary and Vietnam received the certificates of successful completion of the course. All of them study at high-ranking universities all over the world and they came to Tyumen in order to improve the knowledge of business and speaking Russian language as part of the Project 5-100 Academic Mobility programme.
The School received active support from the Hungarian Embassy in the Russian Federation. The Ambassador Extraordinary and Plenipotentiary János Balla and the Consul General of Hungary in Ekaterinburg Sergey Szucs participated in the opening ceremony. Regional authorities supported the project as well. In particular, as part of a guided tour programme, the international students visited Olga Shvetsova, the deputy chairperson of the Committee on State-Building and Local Self-Government of the Tyumen Region Duma.
The participants of the Summer School admit that this month has been extremely eventful, and they bring back home the most pleasant memories of Tyumen. Almost all of the students, in one way or another, associate their future with Russia by planning a career in teaching of the Russian language, professional translation or tourism business. Moreover, some of them are going to continue their studies at the University of Tyumen.
Look at the photo coverage from the school closing ceremony
here
.